This homemade apple cider is generously spiced with cinnamon, nutmeg, allspice and cloves. It's the perfect way to warm up on a chilly fall day, and it will make your entire house smell amazing!
Fall is here! The days are getting shorter, the nights are getting colder, and people are wearing boots and scarfs and cozy hats. And of course, just like every year at around this time, I have a cold. I think it's the changing temperature that does it – one day, it was 85 degrees in Lisbon and I was lounging by the pool. The next, it was 55 degrees and raining and I was digging through my closet to find my warm sweaters that I haven't needed in ages.
Enter stuffy nose, sore throat, sneezing and coughing. Luckily for me, there's plenty of orange juice in Portugal, and ginger tea and echinacea and chicken noodle soup with mint in it (yes, mint). It might be the best sick food ever.
All sick Kalen wanted though, was a cup of hot spiced cider. I tried to tell her that there is no hot spiced cider in Portugal, but she was determined, and no amount of snot could get in her way.  Who am I to argue with sick Kalen? So, for the first time in my life, I made apple cider from scratch. For three hours, I lounged on the couch and enjoyed the smell of simmering apples and spices. Cinnamon, nutmeg, allspice and clove, with a bit of vanilla because it just felt right… and it was. Juuuuust right.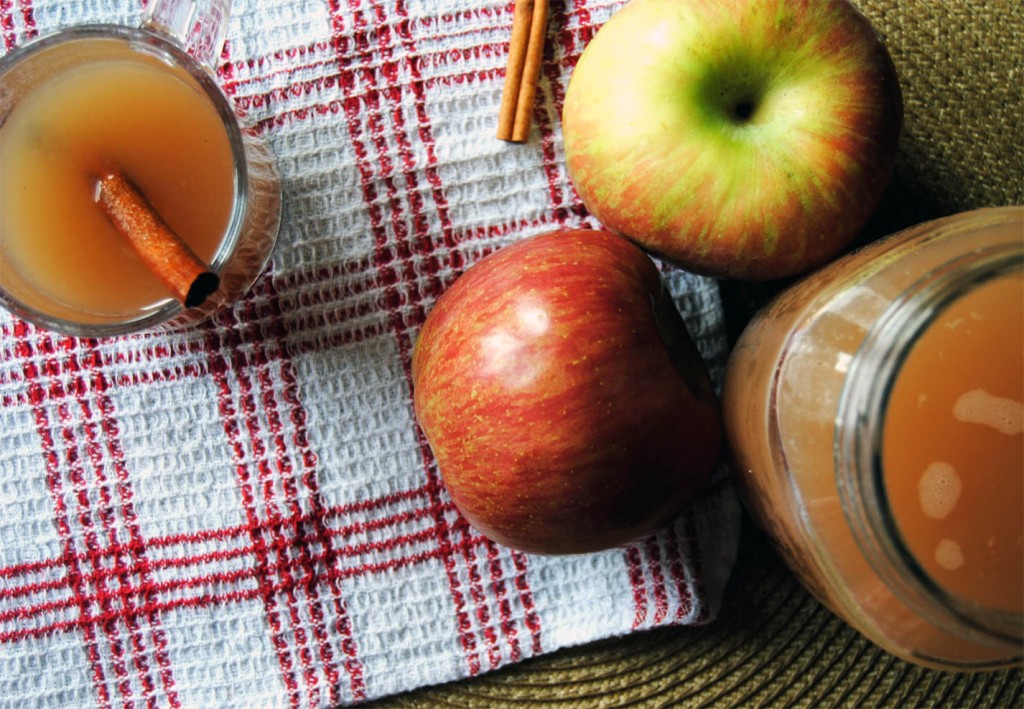 If you're lucky enough to live in a place where apple cider is commonplace, you might be thinking "Homemade cider is so not worth it the trouble – I'll just buy some at the store."
I don't blame you, but this was some of the best cider I've had! I loved the fact that it had a little more texture than store-bought cider, kind of like a nice, pulpy glass of orange juice. Also, I really enjoyed making this, stuffy nose and all. It's time-consuming but totally hands-off until the straining phase (which doesn't take too long). Plus, your house will smell AMAZING while this is cooking!
Ingredients
8 whole apples, quartered (I used a mix of gala and fuji)
1 vanilla bean pod
2 cinnamon sticks
1 teaspoon whole allspice
1 teaspoon whole cloves
1 teaspoon ground nutmeg
1/4 cup brown sugar
half an orange, sliced (peel included)
Instructions
Combine all ingredients in a large pot and add just enough water to cover. Bring to a boil and let boil vigorously for 30 minutes. Reduce heat and cover. Let simmer for two hours.
Remove from heat and let cool. Once cooled, use a wooden spoon or a potato masher to mash the apples to release all their flavor – basically, turn them into applesauce. Pour the cider through a fine mesh strainer. Wrap the remaining pulp in a double layer of cheesecloth and squeeze out any additional juice.
You can decide whether to strain the cider again through cheesecloth to remove any remaining pulp, but I enjoyed my pulpy cider!
Heat and serve with an extra cinnamon stick. If you added a shot of whiskey, nobody would blame you. Just sayin'.
http://chubbysoul.com/2014/10/18/spiced-apple-cider/