Spaghetti in a creamy lemon sauce with prosciutto, topped with fresh parsley and parmesan cheese. 
I feel the need to warn you about this recipe, because it might have driven me a little insane. Allow me to explain.
I made this for myself on a weekday afternoon because I wanted to eat something quick and easy, but I also wanted to spoil myself a little bit. I'd recently had a Skype date with my friend Emma, who may very well be my "chubby soul"mate (Ha, get it? Get it?) and she told me about this recipe so I was eager to try it.
As soon as I took the first bite, I said "MMMMMMMMMMMMMM this is so good!" out loud, with nobody to hear me because I was alone. Now, you might be thinking "That's not crazy at all, silly!" but that's only because I haven't finished my story yet. After the second bite, I said "Oh my god, really, this is so GOOD!", again out loud and with nobody to hear me because I was still alone. Bite after bite, my running dialogue with myself continued. Delicious. This is the very definition of yummy. Why don't I eat this every day? I'm going to eat this every day. People should never eat anything else. It's so lemony. I love lemons. Lemons should be in all the food. Did I mention how good this is?
At no point in time did I think "maybe it's odd that I've been talking to myself for the last ten minutes". In my own defense, though, this pasta is really good. It's delicate in flavor but at the same time, absolutely decadent. The lemon keeps it light, while the cream and butter keep it… well, creamy and buttery. Yum.
Chances are, you aren't as crazy as I am, so eating this on your own won't cause you to have a 10 minute conversation with yourself. To be safe though, I'd recommend sharing this dish with a friend so you can talk to each other about how tasty it is, which is what normal humans do… or so I'm told.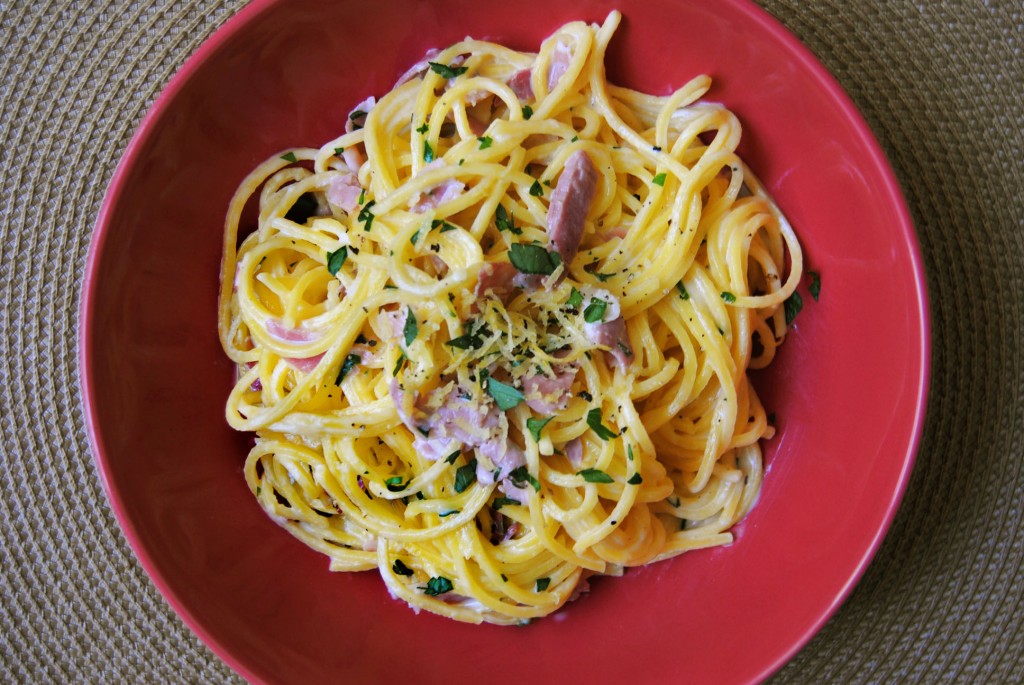 Spaghetti with Lemon and Prosciutto
I have a confession to make. When I made this, I completely forgot to put parmesan cheese on top. Yes, I committed cheesy treason. Honestly though, I didn't even miss it until after I finished eating and realized what I'd done. The sauce is so flavorful that it doesn't need the parmesan on top. That being said, of course you put parmesan on top because everything is better with parmesan on top.
There are a few important tips to remember when making this recipe but they are all quite simple. First, generously salt the pasta water. It should taste salty. Second, slightly undercook the pasta (by about 1-2 minutes) so that it can soak up the sauce without overcooking. Third, try to time this perfectly so that you can drain the pasta and immediately dump it into the pan with all the sauce, rather than letting it sit and dry out. Yuck. Finally, reserve a bit of the pasta water in case the sauce needs a bit more liquid.
Ingredients
250 grams fresh spaghetti or tagliolini
2 tablespoons butter
4 ounces (100 grams) cured prosciutto, cut into thin strips
1 cup heavy cream
zest of one lemon
juice of half a lemon
2 tablespoons chopped fresh parsley
freshly grated parmesan cheese
freshly ground black pepper
Instructions
Bring a large pot of salted water to a boil. Consider the cooking time of your pasta – if it's 6-8 minutes, start cooking it now. If you're using fresh pasta, which generally cooks in about two minutes, wait and start cooking the pasta just before you add the cream to the sauce.
Melt the butter in a large skillet over medium heat . Add lemon zest and prosciutto, and cook for 2-3 minutes. Add cream and lemon juice and stir around, letting it bubble for a minute or two. Season with pepper.
Add the pasta and stir to coat the pasta entirely in the sauce. Cook for another minute, allowing the pasta to absorb the sauce a bit. If it starts to dry out at all, add some of the pasta water.
Add parsley and perhaps just a tiny bit more black pepper and stir everything around one last time. Sneak a taste before serving.
Serve immediately, topped with parmesan cheese.
http://chubbysoul.com/2014/08/12/spaghetti-with-lemon-and-prosciutto/