Stunning citrus fruits bring vibrant color and energy to a simple winter salad, with creamy avocado, feta cheese, toasted almonds and a honey vinaigrette. 
It seems so fitting to me that citrus fruits are at their very sweetest and juiciest in the middle of winter. Just when things are at their greyest, enter bright and vibrant oranges, grapefruit, lemon, tangerine, to wake us up and remind us that there are plenty of sunny days to come. They even bring along a healthy dose of vitamin C to help us push through the last months of winter without getting sick. I think I can speak for most of us when I say "thank you, citrus, for such thoughtful timing!"
This simple but beautiful salad is the perfect way to return the favor and show citrus just how much we care. Look how lovely they are, all dressed up with avocado, feta and toasted almonds, and tossed in a delicate honey vinaigrette. Listen closely and you might just hear their little citrus voices singing "I feel pretty, oh so pretty…"
Jokes aside, this really is the perfect salad to eat in the winter when – let's face it – the last thing you want to eat is salad and the first thing you want to eat is something warm and extra cheesy. First of all, I'm pretty sure that this salad is so radiant that you can get your daily dose of vitamin D just by looking at it. Second of all, it tastes amazing. The citrus juices spill out on the plate as you eat and mix with the rest of the salad, turning into what is basically a juicy citrus party in your mouth. Also, avocado and citrus = my new favorite combination.
I could ramble on about this salad for days but I'm going to do us all a favor and shut up now, so you can run along and make this tasty salad. Ready…. set…. GO!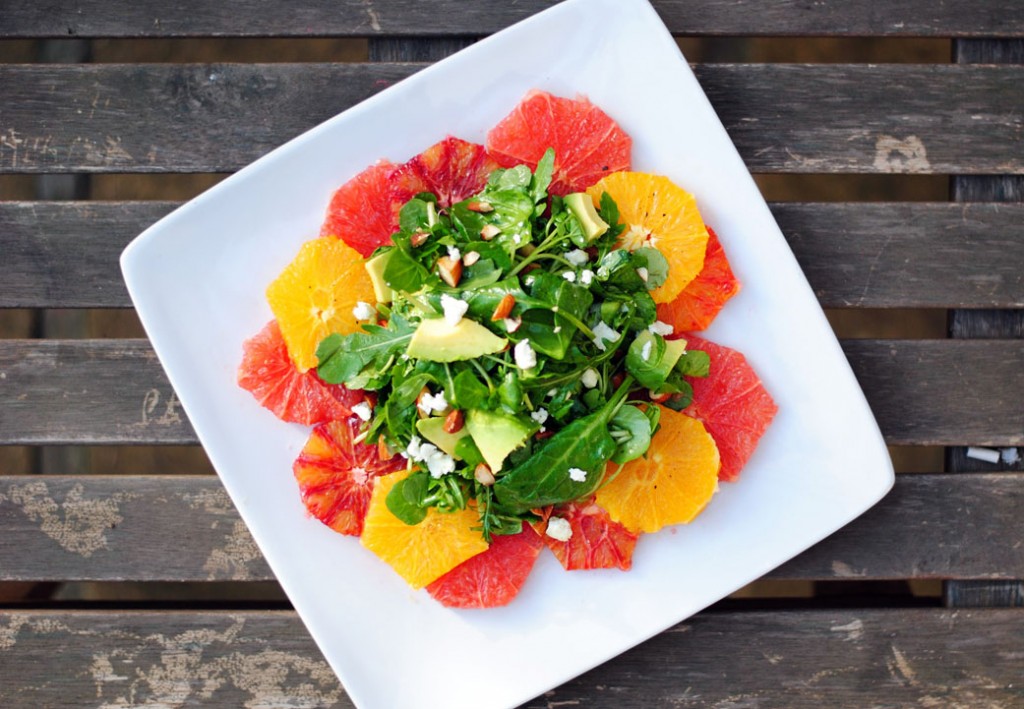 Citrus Salad with Avocado, Feta and Almonds
For the greens of this salad, I used a mix of watercress, arugula and baby spinach. You can use any mix you like but I love the arugula here, as it complements the citrus very nicely.
Mix up the citrus as you like! Tangerines or clementines would be delicious.
Ingredients
Salad

1 red grapefruit
1 navel orange
1 blood orange
3 cups mixed greens
half an avocado, sliced
3-4 tablespoons feta cheese, crumbled
a handful of toasted almonds

Dressing

2 tablespoons olive oil
1 tablespoon lemon juice
1 teaspoon honey
salt and pepper to taste
Instructions
Slice the oranges and grapefruit. First, remove both ends of the fruit and stand it upright. Use a sharp knife to slice down the side of the fruit, removing the skin and as much of the pith as possible. When the fruit is peeled, turn it on its side and slice into rounds. Set aside.
Make the dressing. In a small bowl, mix together olive oil, lemon juice and honey. Season with salt and pepper to taste.
Toss most of the dressing with greens, avocado, almonds and feta, reserving a bit of the dressing (2 teaspoons or so) for later.
Plate the salad. First, arrange the citrus slices around the edges of the plate and drizzle the remaining dressing over the fruit. Pile the salad in the center of the plate and on top of the citrus.
http://chubbysoul.com/2015/02/03/citrus-salad/