A simple, cold-fighting soup packed with nutrients to boost your immune system and help you power through these last few months of winter.
Hello, flu season. Nice to see you again.
…
OK, that was insincere. It's inevitable though, isn't it? The holiday season winds down, and people go back to work, back to reality, and back to subway cars packed with hundreds of sneezers and snifflers. You try not to touch anything, wash your hands a million times a day, drink plenty of water, bundle up when you go outside and take all the other necessary precautions… and then you wake up one morning with a sore throat.
"Nooooooooooooooooooooooooooo!" will probably be your first reaction. Your next reaction will probably be to chug about a gallon of orange juice.
Last year around this time I both woke up with what felt like the beginning of a bad cold, and I said to myself "NOT THIS TIME!" I was not going to be defeated. I drank plenty of orange juice and ginger tea, but I wasn't about to stop there. I found an article  listing several cold-fighting foods, so I did what and I decided to do what anyone would do in my situation and made a soup containing all of them.
And thus, my immunity soup was born. I added carrots for a nice dose of beta carotene (and yummy carrot flavor) and some chili pepper for its decongestant effect (and yummy chili pepper flavor) but other than that I stuck to the list, minus a few things that I thought would be weird in soup, like strawberries. The result was a warming garlic and ginger broth, full of delicious veggies and a subtle earthiness of miso to round things out. Add a squeeze of lemon juice for good measure and kiss that cold goodbye!
I can't say for sure whether it was because of the soup that I fought off that cold, but either way, this is a really tasty soup recipe and when you're sick, there's nothing more comforting.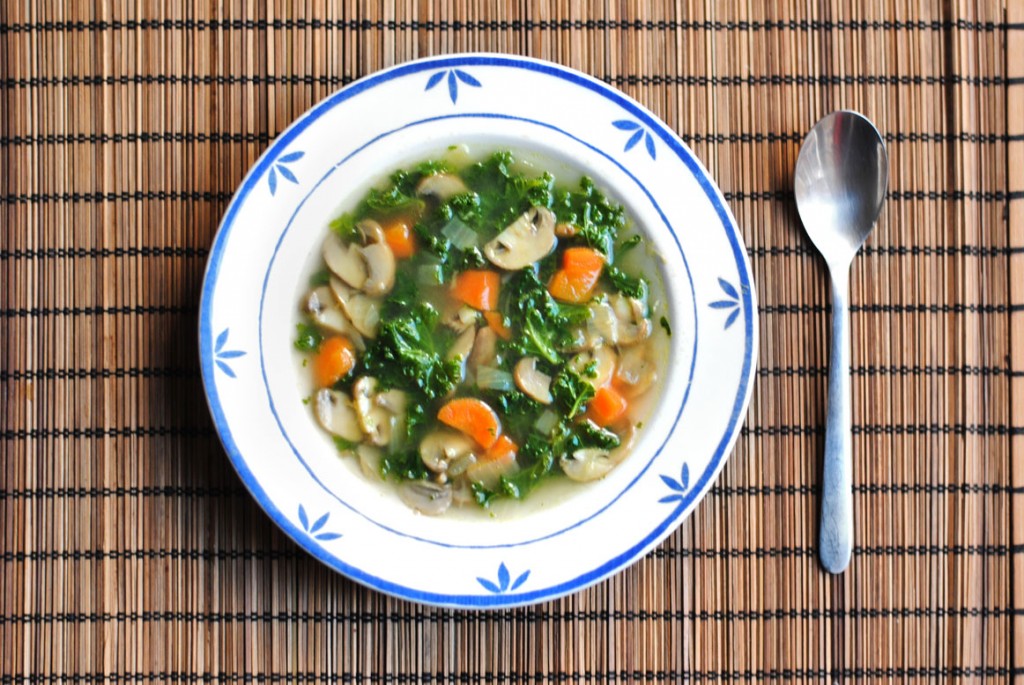 This is a very broth-based soup, so it's not the most filling. I love it like this, because it means I can eat a lot of it, and after I eat the tasty veggies I drink the rest of the broth which is so nice when I'm feeling sick and achy. If you want to bulk it up a bit, I'd recommend adding some barley or some shredded chicken meat.
Ingredients
2 tablespoons olive oil
1 onion, diced
1 large carrot, chopped
4 cloves garlic, minced
2 tablespoons fresh ginger, grated
1 hot pepper (I used a red Thai chili) with seeds removed, or a dash of red pepper flakes
1/2 pound brown mushrooms, sliced
salt and freshly ground black pepper
6 cups chicken broth
2 cups kale, chopped with ribs and stems removed
1 tablespoon miso paste
juice of half a lemon
Instructions
Heat olive oil in a large pot over medium-high heat. Add onion and carrot and sauté for about 4 minutes. Add garlic, ginger and chili or red pepper flakes and sauté for another few minutes until fragrant. Add mushrooms, a tiny bit of salt and plenty of fresh ground pepper, and continue to sauté until the mushrooms begin to release their liquid.
Add chicken broth and bring to boil. Reduce heat and simmer until carrots are slightly tender. Add kale and continue to cook until kale is completely wilted.
Remove from heat. In a small cup, mix miso paste with a bit of hot (not boiling!) water and stir to combine. Stir mixture into soup. Add lemon juice and stir once more. Serve and enjoy!
http://chubbysoul.com/2015/02/05/immunity-soup/