Layers of coffee cheesecake and of ladyfingers soaked in espresso and rum, topped with a vanilla-rum mascarpone and dusted with cocoa powder. A decadent dessert for two. 
Aaaah, Valentine's Day. The day of love, or the day of greeting cards, flowers and chocolate candies, depending on which way you look at it.
While I don't think we need a specific day to let our special someone know how much we love them, I do fully support any excuse to eat more dessert, and the more decadent the better. This year I was trying to decide between cheesecake and tiramisu… and then I realized that I really shouldn't be expected to make that kind of decision. Sometimes you just need to have it all.
This is the perfect recipe for Valentine's Day because it makes just two individual-sized cheesecakes. They're quicker and easier to make than a full-sized cheesecake, plus they're tiny so you won't binge on cheesecake for the entire week. Unless you really want to, in which case you should just multiply all the quantities in this recipe by about ten. Whatever you decide, you have my full and unwavering support.
This is also the perfect recipe for Valentine's Day because it's delicious. It's creamy, rich and just boozy enough, with coffee everywhere. We're talkin' layers of coffee cheesecake and ladyfingers soaked in espresso and rum, topped with a vanilla-rum mascarpone cream and a sprinkling of cocoa powder.  You might be thinking "are you freakin' kidding me?!?" and no, no I'm really not.
P.S. Check out my raspberry cheesecake brownies for another decadent Valentine's treat!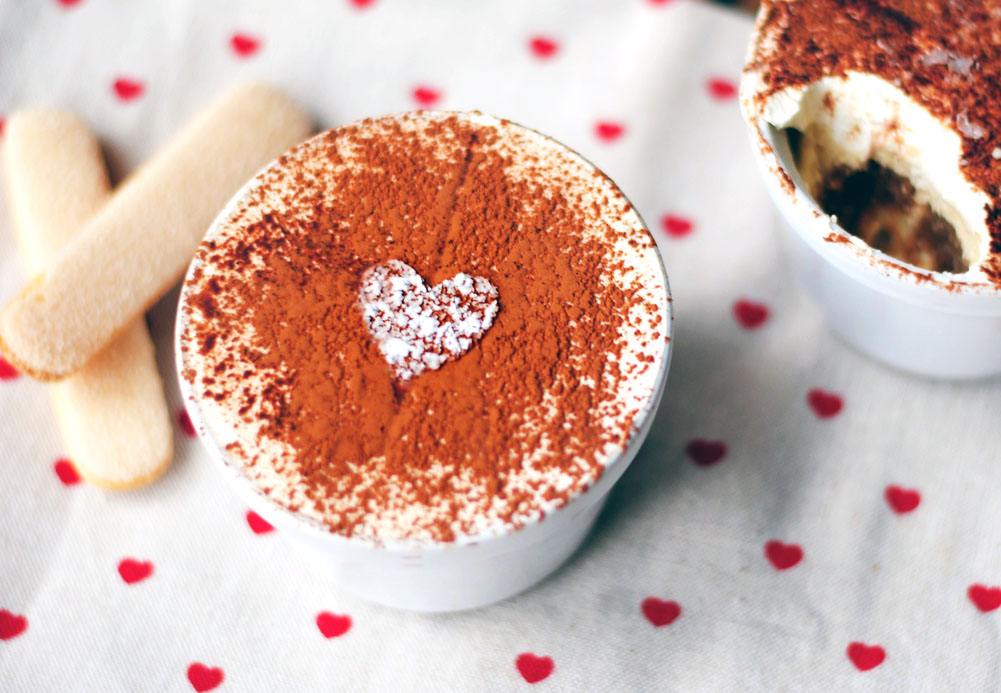 Tiramisu Cheesecake For Two
This recipe is very forgiving. Don't worry if the cheesecake cracks or sinks in the middle, because you're going to top it with a mascarpone cream. It will look (and taste) perfect in the end!
Feel free to omit the rum if you prefer a less boozy dessert, but the taste here is not at all overwhelming. Also, don't forget that this contains espresso, so use decaf if you're worried about losing sleep.
I decorated these with powdered sugar hearts because I'm cheesy like that. It's easy to do - just cut a heart shape out of paper. You could also decorate these with dark chocolate shavings for a classier look.
Ingredients
Cheesecake

8-10 ladyfinger cookies
1/4 cup + 1 teaspoon espresso
2 tablespoons dark rum
6 ounces cream cheese
1/4 cup sugar
1/4 teaspoon vanilla
1 egg

Mascarpone Cream

1/2 cup mascarpone
1/2 cup whipping cream
2 tablespoons sugar
1 teaspoon rum
cocoa powder
Instructions
Line 2 6-ounce ramekins with plastic wrap.
In a small bowl, mix together 1/4 espresso and 2 tablespoons dark rum. Set half of the ladyfingers aside. Quickly dip each of the remaining ladyfingers in the espresso mixture, and place in the bottom of the ramekins. You'll need to break the ladyfingers into pieces to fit - think ladyfinger mosaic. Place the ramekins in the freezer for about 15 minutes or until firm, then remove the ladyfingers (still in plastic wrap) and place on a plate in the freezer until you need them.
Preheat oven to 350ºF/175ºC. Take the remaining ladyfinger cookies and break them into pieces, and quickly dip just one side of each cookie into the espresso and rum. Place wet side up in the bottom of each ramekin, pressing down on the cookies to fill any spaces. Place ramekins in the freezer until ready to fill.
In a medium bowl, beat together cream cheese and sugar until smooth. Beat in vanilla and 1 teaspoon espresso, then mix in egg until just combined. Careful not to overmix once you've added the egg.
Remove the ramekins from the freezer and pour roughly 1/4 of the cream cheese mixture into each ramekin on top of the ladyfinger base. Place the reserved ladyfinger layers on top, then pour the rest of the cream cheese mixture on top. There should be a little extra space in the ramekins.
Place ramekins on a baking sheet and bake for 20-25 minutes or until cheesecake is set and begins to pull away from the side of the ramekin.
Chill four at least 4 hours, but preferably overnight.
When cheesecakes are chilled, make the mascarpone cream. Beat all ingredients with an electric mixer until stiff peaks form . It will be thicker than regular whipped cream. Spread over the top of each cheesecake and smooth with a knife, so the cream is level with the top of the ramekin. Dust with cocoa powder. Chill until ready to serve.
http://chubbysoul.com/2015/02/13/tiramisu-cheesecake-for-two/